Introducing Our Resident Ambassador Program!
We are delighted to introduce the Resident Ambassador Program at The Terraces at Westminster, where our residents can play a crucial role in establishing relationships among other residents. Our resident ambassadors make newcomers' transition into the community more pleasant, act as a point of contact for any inquiries, and speak out for the interests of other residents.
What it means to be a senior living resident ambassador:
Reside in the heart of our vibrant community: Resident Ambassadors have the honor of dwelling in our excellent assisted living home, enjoying all the amenities and a close-knit environment.
Lead the way in fostering a welcoming environment: Our ambassadors are in the forefront of fostering a friendly, welcoming atmosphere where new residents can feel at home. Their encouraging words and smiles will have a long-lasting effect on their transition.
Build better relationships: By getting to know their peers, residents can develop deep connections, exchange backgrounds, and feel a sense of belonging.
Being an advocate for other residents: As an advocate, resident ambassadors ensure that residents feel their needs and concerns are understood and taken into consideration. Their opinions and recommendations will help us keep improving our senior living community.
Our Resident Ambassador Program is an excellent method to improve everyone in our community's overall living experience. It's an opportunity for you to grow individually, establish enduring bonds, and have a beneficial influence on all your neighbors.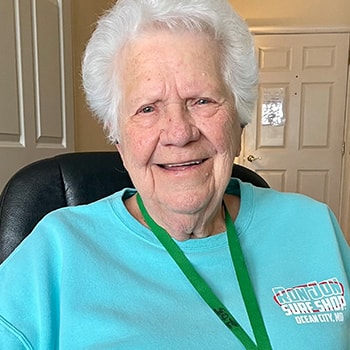 Carolyn Smith
Carolyn Smith was born in Baltimore, Maryland and is one of 6 children. She has lived in Maryland her most of her life and is a true Maryland gal! She went to Eastern High School for girls and went on to work for the social security administration. Doing charity work for Rainbows for Girls, a youth service organization that teaches leadership training through community service, was also a huge part of her life. Carolyn was married for 49 years to her husband William, and they had one son, William III. She loves reading, playing solitaire, and seeing her son, his wife Peggy, and granddaughter Jackie. We are so honored to have Carolyn as a part of our community and as one of our resident ambassadors!